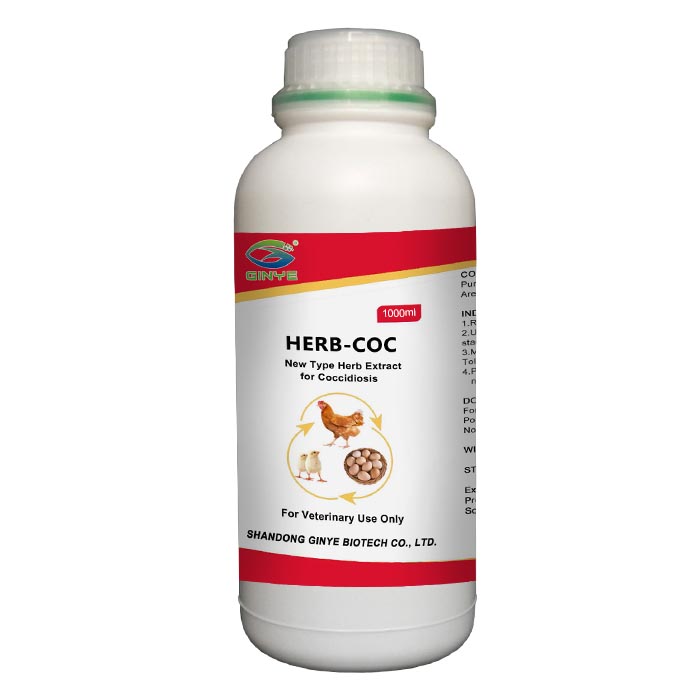 HERB-COC
(New Fformula Herbal Extraction for Coccidiosis )

Composition: per ml contains
Purslane Extract 20 mg
Poplar Flower Extract 20 mg
Areca-nut Extract 10 mg
Vitamin K3 10 mg
Solvents upto 1 ml
Indications:
1. Repair Intestinal Mucosa and restore intestinal function rapidly.
2. Used for prevent and treatment coccidiosis of all stages like schizogony and gametogony stages stages of Eimeria spp. in chicken and turkey.
3. Make up the defect of traditional coccidium medicine drug resistance problem(such as Toltrazuril , Diclazuril,Sulfonamides), this product no drug resistance for long period medication.
4. Pure herbal extract product can be used for all stage of poultry. Green and healthy, no drug residue.
Dosage:
For oral administration via drinking water:
Poultry : 1ml per 1L-1.5L water, for 3-5 consecutive days.
Double dosage during serious condition.
Notice: This product has better treatment result when use with enteritis medicines.
Withdrawal times: None
Warning: Keep in cool dark place below 30 ℃. Keep out of reach of children.
Packing: Bottle of 250ml 1L 25L
Validity: 2 years