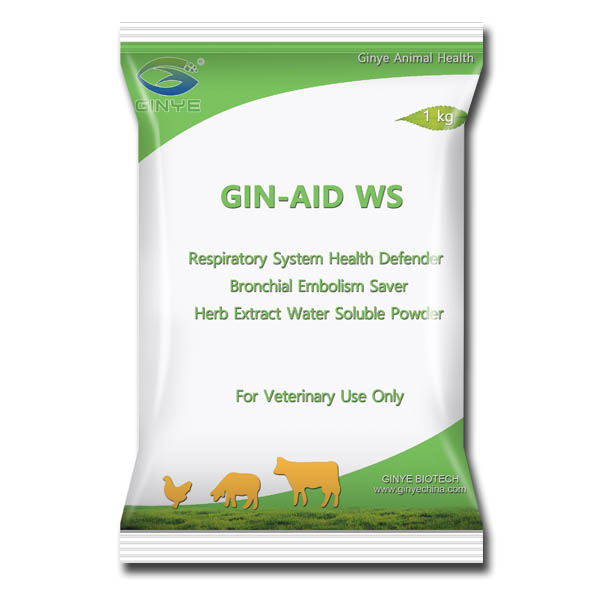 GIN-AID WS
Respiratory System Health Defender
Bronchial Embolism Saver
Herb Extract Water Soluble Powder
COMPOSITION:
Liquorice Extract 50 mg
Eucalyptus Extract 50 mg
Menthol 20mg
Carrier upto 1 g

lNDICATIONS:
1.GIN-AID is first-aid product for treatment poultry bronchial embolism, control death rate very soon.
2.Protect respiratory tract mucosa, anti-inflammation , anti-infection.

3.Prevent and treatment snore bronchial embolism cough caused by virus and bacterial mixed infection. (such as IB salmonella E.Coli Staphylococcus aureus typhoid bacillus etc)
4. Green healthy, antibiotic free, no drug residue.

DOSAGE AND ADMINISTRATION:
For Oral Administration
Poultry: 1 g per 1 liter of water for poultry drinking more than 12 hours for the first day, and more than 8 hours for next days. keep 3-5 days.
Double dosage under serious condition.

WITHDRAW PERIOD: None

STORAGE: Store in dry & cool place, below 30 ℃.

PACKING: 500g 1kg Bags

VALIDITY: 2 years