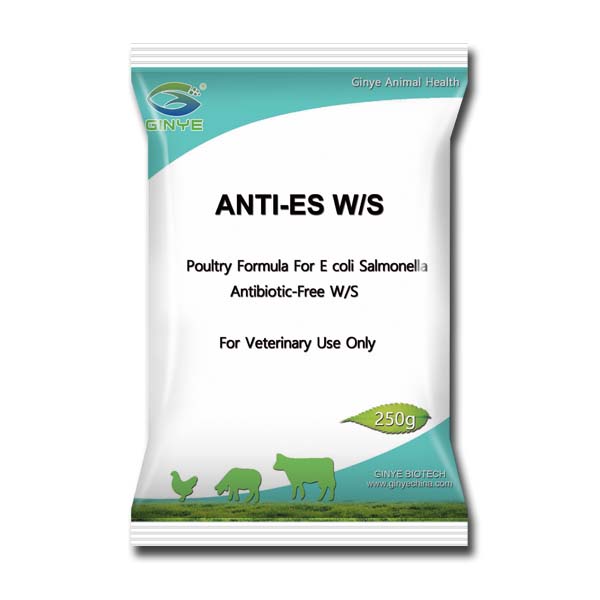 ANTI-ES W/S
Poultry Formula For E coli Salmonella
Antibiotic-Free W/S
For Veterinary Use Only
Composition: Each gram contains
Purslane Extract............100 mg
Astragalus Extract..........50 mg
Bacillus subtilis ≥ 1×1010 CFU
Carrier : Potassium Sorbate Starch Yeast Cell wall, etc.
Indication:
This product is new antibiotic-free formula for treatment E-coil Salmonella disease on poultry, its used for prevent and treatment gastrointestinal tract inflammation. it can help animal repair intestines and stomach mucosa rapidly, decrease mortality rate, improve poultry immunity and FCR.
Usage & Dosage:
Normal condition: 1 g per 1-1.5 liter of drinking water 6-8 hours keep more than 3-5 days.
Serious condition: 1 g per 0.5-1 liter 6-8 hours of drinking water keep 3-5 days.
Withdrawal Period: None

Storage:
Stored with sealed packaging in a cool, dry and ventilated place.
Avoid to be exposed to the sun,rain,high temperature and high humidity.
Package: 100g 250g 500g 1kg
Validity: 24 months