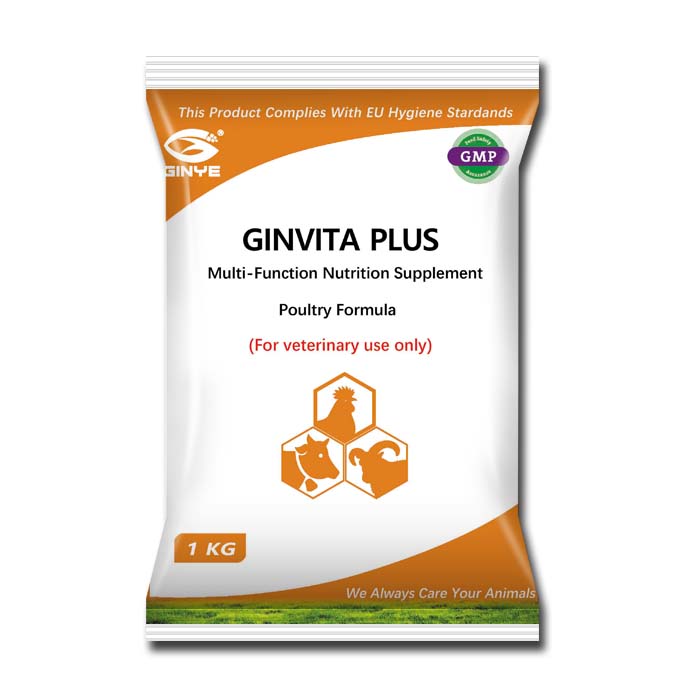 GINVITA PLUS
Multi-Function Nutrition Supplement
Poultry Formula
COMPOSITION: Per gram

Astragalus extract 100 mg
Taurine 100 mg
β Glucan 25 mg
Vitamin A 10000 IU
Vitamin D3 5000 IU
Vitamin E 20 mg
Vitamin B1 5 mg
Vitamin B2 8 mg
Vitamin B6 8 mg

Vitamin B12 50 μg
Vitamin C 30 mg
Vitamin K3 5 mg
Nicotinamide 60 mg. Folic acid 2 mg.
Biotin 300 μg. Choline chloride 10 mg.
L-Lysine 50 mg. DL-Methionine 45 mg
INDICATION:
1. Adjust intestinal flora balance, decrease enteritis and diarrhea diseases.
2. Multivitamin supplementation, keep poultry physiological function,
3. improve immunity and anti-stress strength, decrease mortality.
4. Stomachic attractant and promote digestion & ingestion, improve FCR.


DOSAGE&ADMINISTRATION:

Poultry: 1 kg per 1500-2000 Liter water keep 3-5 days
Double dosage during disease and recovery period.
Caution: This product cannot mix use with other medicine and vaccine,
use interval time should not less than 3 hours.


WITHDRAWAL PERIOD: None
STORAGE: Keep in storage of 5-25℃, prevent from air and light.

PACKING: 250g 1kg