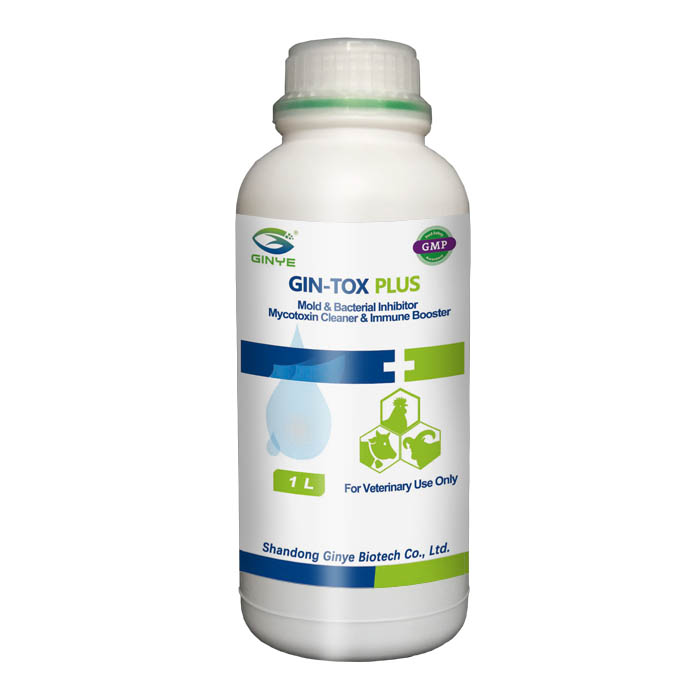 GIN-TOX PLUS
Mold & Bacterial Inhibitor
Mycotoxin Cleaner & Immune Booster
For Veterinary Use Only
COMPOSITION: Each ml contains
Cinnamon Oil.............15 mg
Oregano Oil ...............25 mg
Glycyrrhizic acid..........40 mg
Malic Acid ...................40 mg
Citric Acid.....................55 mg
Glucose Oxidase, Copper Sulfate, Solvents
INDICATIONS:
1.Suppression of mycotoxicosis, reduce mortality, improve FCR.
2.Eliminate mycotoxins presemt in feed and digestive tract,Improve feces consistency and reduce enteric problems.
3. Help repair digestive tract mucosa rapidly,stimulates digestive enzymes production.
4. Reduce farm smell and keep safer environmental condition keep water pipeline cleaning.
5. Long action period, not corrosive, not reduce absorption of nutrients, not alter the taste.
DOSAGE AND ADMINISTRATION:
For oral drinking water:
1L per 1500-2000L Drinking water, keep drink more than 8 hours.
Keep 5-7 days.
Double dosage during mycotoxin serious period.
WITHDRAWAL PERIOD: None
STORAGE: Store in a dry, dark place between 5℃and 25℃.
Keep it away from children.
PACKING: 1L 5L 25L Plastic Container.
VALIDITY: 2 years