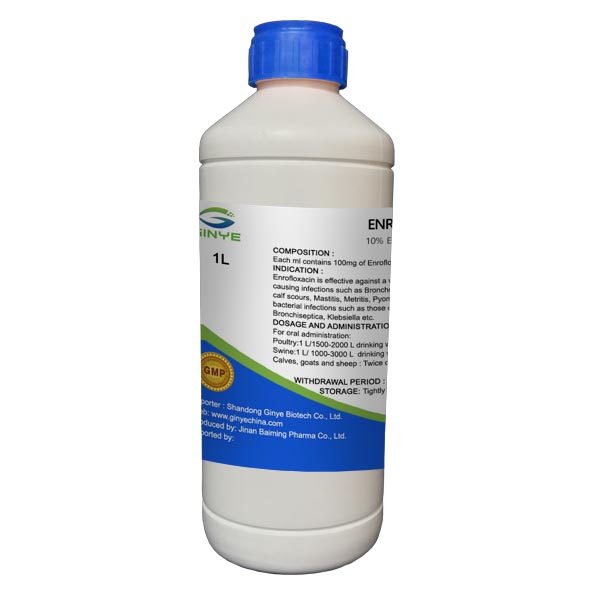 ENROGIN 10%
10% Enrofloxacin Solution
FOR VETERINARY USE ONLY
COMPOSITION :
Each ml contains 100mg of Enrofloxacin
INDICATION:
Enrofloxacin oral Solution is a broad spectrum antibacterial for single or mixed bacterial infections, especially for infections caused by anaerobic bacteria.
In livestock and canines, Enrofloxacin is effective against a wide range of Gram positive and Gram negative organisms causing infections such as Bronchopneumonia and other respiratory tract infection, gastro enteritis, calf scours, Mastitis, Metritis, Pyometra, Skin and soft tissue infections, ear infections, secondary bacterial infections such as those caused by E.Coli, Salmonella Spp. Pseudomonas, Streptococcus, Bronchiseptica, Klebsiella etc.
DOSAGE AND ADMINISTRATION :
For oral administration:
Poultry:1 L/1500-2000 L drinking water for 3-5 days.
Swine:1 L/ 1000-3000 L drinking water for 3-5 days.
Calves, goats and sheep : Twice daily, 10 ml/75 - 150 kg. body weight for 3 - 5 days.
PRECAUTION:
1.The product should not be administered at horses and dogs younger than 12 months
2.Avoid direct contact with the product .It is possible to cause dermatitis by contact.

3.Overdose can cause digestive disorders as vomit, anorexia, diarrhea and even toxicosis. In that case the administration must be stopped at once and the symptoms must be handled.
Withdrawal Period: For meat: 8 days
STORAGE: Tightly sealed, Store in 5-30°C and avoid light.
PACKING : 1L×12Bottles/CTN
VALIDITY: 2 years