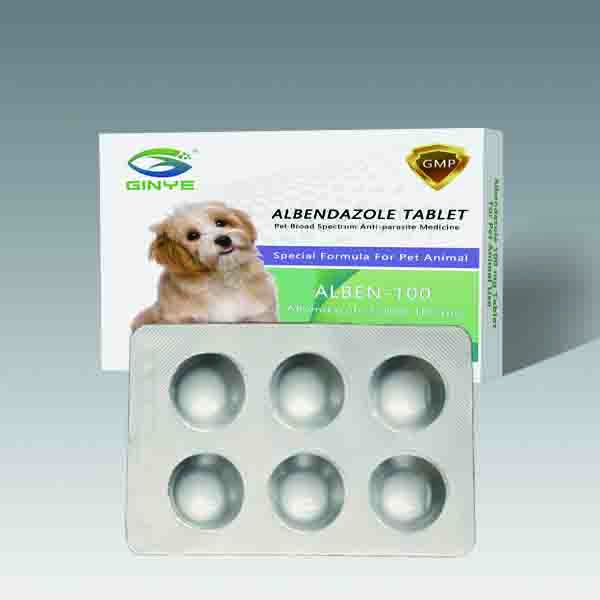 ALBEN-100 TABLET
Albendazole 100 mg Tablet
Broad Spectrum Anti-parasite Medicine
For Animal Use Only
Composition: Each tablet contains
Albendazole 100 mg
Description:
Albendazole is one family of benzimidazoles, which has a broad-spectrum insecticidal effect. Nematodes are sensitive to it, and it also has a strong effect on tapeworms and flukes (but a large dose is required), but no effect on schistosomiasis. The mechanism of action is mainly binding with tubulin of nematode. When albendazole binds to beta-tubulin, it prevents it from polymerizing with alpha tubulin to form tubules. Microtubules are the basic structural units of many organelles and are necessary for cell reproduction such as mitosis, protein assembly and energy metabolism. The affinity of albendazole to tubulin of nematode was significantly higher than that of mammalian microtubulin. This product not only has a strong effect on adults, but also has a strong effect on adult and larva.
The combination use of albendazole and praziquantel will increase the plasma concentration of Albendazole.
Indications:
Anti-worm medicine.Used to prevent and treatment of animal nematode disease, tapeworm disease and parasitic diseases.
Dosage & Administration:
Oral : Dog, 25-50mg per 1kg of body weight for one dose. Or inquiry veterinarian before use.
Side effect:
(1) Dogs with 500mg/kg twice a day will gradually develop anorexia.
(2) Occasionally mild symptoms of lethargy, depression, anorexia, etc. are found in cats.
(3) Aplastic anemia is occasionally found in dogs and cats.
(4) Teratogenic and embryonic toxicity in early gestation animals.
Other Specification: 25mg 50mg 0.2g 0.3g 0.5g
Storage: please keep it in a cool and dry place with a close cover, and avoid direct sunlight. Please use it as soon as possible after opening packing.
Shelf life: 3 years